Have you ever seen an angel fly? I have. Just watch Jimin soar across the stage at any BTS concert. Jimin simply defies gravity. Watching him dance will make you feel like weeping with joy seeing such magnificence on stage. Once you do, it will make you a believer that there are angels on Earth. Better yet, listen to Jimin sing as his flies. With a hint of a growl, Jimin's vocals will send excited shivers up your spine. Cast at the age of 17 as the Main Dancer for BTS, Jimin quickly proved to be more than just a powerful dancer — he could sing in ways that defied vocal expectations. A natural tenor, Jimin's voice can reach the highest levels and yet he finds ways to cast his range into the lower registers so that anyone listening is captivated. Thus, it is no surprise that Jimin's natural dance talent combined with his unique vocal sound has enthralled audiences across the globe.
Destiny Awaits
BTS is a worldwide sensation that has steadily swept up audiences in every city and country that they have performed. The 10 year journey started in 2010, when a band was being formed in South Korea by a fledgling entertainment company known as Big Hit Entertainment. It took 2 years for BTS to select its final member to complete the band: a rising dance-prodigy known as Park Ji-min. Going by the moniker Jimin for the duration of his BTS career, Jimin was indeed the missing piece that completed the band known as BTS today. Nearly complete with 3 rappers and 3 dance/vocalists, BTS continued to search for the one elusive last piece so that it would go beyond just being a strong band to a being a band destined for greatness.
Destiny indeed seemed to be fated for the 7 members of BTS: RM, a rapper with a genius IQ and gift for word-play and lyricism; Suga, a rapper with a searching soul who lives to compose and produce music; J-hope, a street dancer with limber and lightning fast movements and a vocal demeanor that naturally lifts spirits; Jin, a powerful tenor whose visuals stopped people in their tracks worldwide; Taehyung aka V, a soulful baritone singer whose visuals reminded all who saw him that Greek gods do exist on Earth; and Jungkook, a sweet-sounding tenor who captures attention everywhere he goes and who has the innate ability to make everyone fall in love with him; then add Jimin into the mix, who can move and sing like an angel, and it is really no surprise that BTS's popularity rose exponentially each year since their debut in June 2013.
While BTS's first few years as a band explored music and style changes in order to best showcase all the band members and their natural talents, by 2015, BTS was in the perfect position to take off and take over the world music industry. Album sales, in 2015 alone, went from a cumulative 350,000 in sales to over 1.5 million sales by the end of that year. BTS's music "magic" had finally cast its spell over the global music audience and sales reflected the beginning of a mutual love-affair between BTS and fans that has continued through to today as fans from every country on the planet continue to fall in love with BTS and its 7 extraordinary members. Six years later, and BTS has now sold over 28 million albums worldwide and its fanbase has grown to over 100 million, with 30 million active fans who have regularly dominated social media platforms, such as Twitter, TikTok, Instagram, Tumblr, Facebook, and Bit Hit's own social media app WeVerse.
Music Metamorphosis
The time period of 2013 through 2021 has been an 8-year journey of music transformation. BTS debuted in June 2013 as a rap/hip-hop band catering to a predominately male audience to 6 months later segueing into more melodious and integrated music that went on to include hip-hop, R&B, rock, orchestral strings, electronic dance music, moombahton, Neo-soul, emo-rap, nu-disco, funk, pop-rock and pop-rap — dubbed "fusion music" because BTS pulls from all these varied music genres and seamlessly weaves them together into glorious ballads and rocking dance mixes. Better yet, Jimin proved to be a phenomenal asset as BTS was poised to take over the worldwide music industry.
Jimin's willingness to adapt and use his sultry, tenor voice to regale listeners, as well as take on the riskier and more visually-arresting dance choreography, proves that Jimin will do anything and everything in his power to ensure the band's overall success. If you have not yet heard Jimin sing his signature songs, you need to remedy that immediately. Just listen to "Lie" and "Serendipity" and "Filter" and you will discover why fans have fallen rapturously in love with Jimin's voice and singing style.
Soaring Above
BTS not only needed to capture the ears of music listeners, it had to capture the attention of the audience paying to attend concerts and watch the band perform its complex dance sequences. Thus, Jimin's ability to soar through air and perform complicated and physically demanding dance choreography was the necessary linchpin to making BTS rise quickly up the charts and straight into audiences' hearts.
One perfect example is Jimin performing his (hands-free) cartwheel flip over his bandmate J-hope during BTS' performance of "We Are Bulletproof Pt 2" from BTS's debut album "2 Cool 4 Skool" released June 12, 2013. Another phenomenal performance is from BTS's "Black Swan" dance choreography at the 2020 Melon Music Awards.
Jimin's mastery of physically-challenging choreography stems from a deep desire to perfect his dance craft. He had already trained in modern dance and was known as a top dancer prior to auditioning to join BTS in 2012. The last member to be cast as a trainee for BTS, Jimin initially struggled to adapt his modern dance techniques to the hip-hop/street-style dance steps that BTS' choreography demanded. He has admitted in interviews that he frequently only got 2 hours sleep each night during his 9 months as a trainee as he would practice into the night after his teammates went to bed in order to catch up to their level of choreography and cannot recall how many times that that he was nearly cut from the trainee program. Fortunately, Jimin's tenacity and drive to conquer the choreography ultimately succeeded.
What Jimin brought to BTS went beyond just superior dance and physicality to their performance choreography. He brought a visual style that is unique to him and makes BTS's performances stunning to watch. One example of Jimin's breath-taking dance ability can be seen from the 2019 Melon Music Award performance of "I Need U" (also seen here, starting at 1:57 mark). Another is Jimin's performance of his solo song "Serendipity", which is just pure visual art in motion, as well as his performance in the official BTS MV for "Black Swan" set in an opera house. For a more full appreciation of Jimin's commitment to visual artistry, also check out BTS's performance of "Fake Love" at the 2019 Melon Music Awards, where the band members begin as marionette puppets and Jimin and Hobi's synchronized dance to "Intro: Boy Meets Evil" at the 2016 Melon Music Awards (start at the 1:40 mark). Just as stunning and worthy of watching are Jimin's fan dance at the 2018 Melon Music Awards during the BTS performance of "Idol" and special choreography for BTS's performance of "Fake Love."
Visual Instinct
Beyond the physically challenging and powerful choreography that Jimin uses during his stage performances, as shown in his solo songs and when performing BTS songs, Jimin has a natural instinct for theatrical performance and his instinct for visual artistry on stage has made him one of the most riveting artists to watch.
Jimin's performance of his solo song "Filter" during the "Map Of The Soul" ON:E (virtual) concert is a perfect illustration of his mesmerizing theatrical flair. From the costuming to the dance steps and gorgeous choreography to the raspy vocals that entrance you with each and every breath he takes, Jimin's performance is magnificent. The evolution of Jimin's artistry can be seen throughout the past 8 years reflecting that he has been working diligently on his craft, both as a member of BTS and through his own independent explorations of art, music and fashion.
Perhaps guided by or in the process of trying to assimilate into the Big Hit Entertainment world, Jimin's costume styles were defined by his physicality and he leaned into the sports attire look adopted by BTS catering towards their hip-hop/rap audience. See BTS official MV's for: "No More Dream" "We Are Bulletproof Pt 2" and "N.O." In 2014, BTS shifted away from the predominately street-style/hip-hop in order to showcase the band members as young men in school: "Boy In Luv" "Just One Day" "Danger" "War Of Hormone" "I Need U" and "For You".
Then in 2015, as BTS shifted the scope of their music into the richer world of melody and ballads, it gave Jimin a bit more room to incorporate fashion and art into his costuming for performances. One of funnest visual demonstration of this fashion exploration was in the 2015 MV "Fire", where Jimin's character is shown in a variety of visual looks, each more art worthy than the last. It is noteworthy how Jimin's character transformed into literal art as his character sat in front of paintings while playing with a lighter during the "Fire" music video, allowing the visual and lyrical meanings to become intertwined as Jimin sang and danced throughout the video. It is fun to see Jimin thoroughly enjoying the wide range of artistic expression in the "Fire" music video. It is like watching a bird take his first flight and discovering that he loves it. The world of "visual art" and Jimin were destined to meet through the visual medium of stage and video as the camera loves Jimin and he loves performing for it. Jimin is a natural performer and the more he is allowed to play, the more his joy shines through.
Just look at Jimin's performances in the BTS "Dynamite" Dance Break at the 2020 Melon Music Awards, the amazing "Dynamite" performance on The Late Late Show With James Corden set in an airport, as well as the fantastic original performances by BTS on The Tonight Show With Jimmy Fallon of their songs "Idol" and "Black Swan"; not to mention the BTS MV's for "Blood Sweat & Tears" and "Fake Love". All illustrate perfectly how Jimin was just born to soar.
Fashion Artistry
BTS is a band that likes to curate and craft their image from every musical note to every piece of costuming used in their performances. As a performance artist, this is Jimin's area of expertise. His instinct for cutting-edge fashion and using it to every advantage to make him look even more alluring on stage or in videos is precision. There is a reason that Jimin has ranked Number 1 on the Kpop idol charts for nearly 4 years running — he knows how to capture and retain interest, both visually and musically. Like a chameleon, Jimin can modify his stage craft presence through wardrobe and costuming choices that best accentuate his body as he dances and sings. Similarly, his vocal training also reflects another layer of that precision in adapting subtle vocal changes for his solo songs and shifting his vocals as well in BTS songs.
But, on stage, Jimin knows that each accessory — whether it be jewelry, sunglasses or a hat — each piece must catch the audience's attention and complement the outfit as a whole, as well as make him look desirable from every angle. While, the BTS members as a whole are styled with some of the best costuming seen in live performances, it is Jimin who tends to wear the one thing that sets him apart and catches your attention. The wardrobe/costuming designs that Jimin tends to wear are also carefully selected to accentuate both his body type, as well as his passion and desire to convey that he is "living art". It works brilliantly. Whether it is designer clothes, masterpiece jewelry or just eye-catching accessories, Jimin always stands out and shines.
Color Range
Jimin also employs a wide range of hair colors and colorful clothing styles to keep up with his stage and video costuming changes. In fact, his hair colors will range from dark raven, soft brown, golden blonde, blue, orange, pink, or rainbow streaks within a few months time as his hair colors change as often as the costumes he wears. As Jimin knows, there is not a single color or shade that looks anything less than fantastic on him. Just as easily as he colors his hair to suit the occasion or performance, Jimin also adapts a stage persona to fit the colors and costuming. This chameleon instinct has served him well and has taken the media world by storm. It keeps Jimin in the headlines and social media trends on a nearly daily basis. Jimin is a known "taste-maker" and utilizes his keen fashion instincts to not only visually showcase himself and BTS to full effect, but to influence fashion globally.
Power Of A Whisper
While a lot of attention is paid to Jimin's vocals, dance prowess and visual artistry, there is another side to Jimin that should be just as infamous: he is an activist. At his core, Jimin is a fearless rebel. Perhaps this is what led him to pursue a career in dance and entertainment. Jimin is undeniably drawn to showing off things that not only make him happy, but also for causes which he believes in and supports in his heart and soul. There is a saying: "A whisper can be more powerful than a shout as it forces everyone to listen." That is who Jimin is. He does not shout. He whispers — and everyone listens.
While Jimin's bandmate Jungkook is famously known for his arm and hand tattoos, it is Jimin who took the bold step of getting a tattoo before Jungkook did. In 2014, Jimin was spotted with a tattoo that read "Nevermind" across his lower right rib during his dance performances — though it should be noted that it was a fake tattoo, which Jimin then later had permanently tattooed on his chest in 2018.
Jimin is a clearly a fan of the U.S. rock band Nirvana whose album "Nevermind" is a rock classic from 1991, best known for the song "Smells Like Teen Spirit." What is perhaps not as well known is that Nirvana's lead singer Kurt Cobain liked to use Nirvana's song lyrics and music platform as an advocate for women's rights and to rail against abuse of the oppressed. So Nirvana has served as a symbol and anthem of young people looking to rage against an unfair treatment or constrictive social expectations/conditions.
As a student of modern dance, Jimin must love the ability to use his body to move and dance with freedom and expression. Thus, Nivana's message and music probably served as a balm for his soul, so much so, that he had "Nevermind" tattooed as a way of celebrating and remembering that desire to live life fully and on his own terms. Truth-to-self is really how we should all live.
In fact, this is one of the core messages that BTS has included in all of their albums and discography: love yourself, be true to yourself, value yourself, live your truth.
Jimin not only wants to celebrate and live true to himself, he also takes the time to advocate for others who are suffering or oppressed. Jimin has even gone out of his way to wear a variety of clothing to show his support or protest of unfair treatment of others. If there is one person in BTS who is going to get into trouble for their beliefs and wearing it literally on a shirt in public, it is Jimin — and it is my impression that he does it defiantly, proudly and unabashedly. It is his way of declaring his beliefs because he knows that literally every single thing he wears will be photographed and that those photos will deliver his message around the globe in seconds through social media — all without him having to utter one word. It is impressive and brave and I admire Jimin for that courage to speak, even without using words. Jimin knows he has power and he uses it to advocate for those who are seeking equality and deserve to be treated with respect.
From the BTS "Break the Silence" Docuseries (Ep. 3):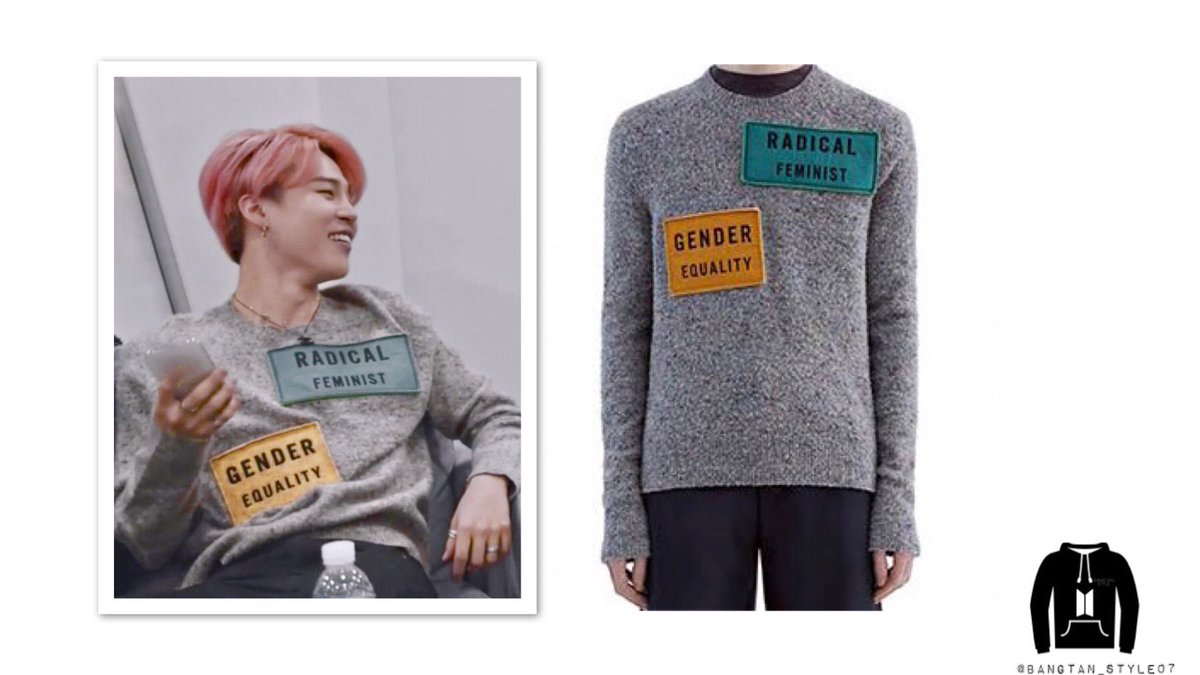 Originally tweeted by Bangtan Style⁷ (SLOW) (@Bangtan_Style07) on May 14, 2020.
It serves to remind us that the loudest voices tends to be the ones not heard, but seen. Fortunately, in the world of BTS, they can do both. As singers and performers who write their own songs and lyrics, they can use words to convey the messages that they want the world and their audiences to hear. Yet the power of the unspoken word through visual medium is equally powerful and it is incredible to see it employed to such effect as well. In fact, BTS's "Love Myself" message got the band invited to speak as UNICEF Ambassadors in 2017 in support of UNICEF's #ENDviolence campaign, and to speak before the United Nations for "Generation Unlimited" in September 2018 and again in September 2020.
In a recent Vlive where BTS celebrated the release of their new single "Butter," Jimin laughing said that he represents "Butter" best since he is all warm and soft, just like butter (at the 1:30 mark). What was fascinating was how his fellow band members did not react to his self-assessment. My take-away was that, while Jimin is indeed a sweet and warm person, that perhaps he has his moments where his innerself can be seen and I think his innercore is made more of steel because, at his core, Jimin is a person of deeply held beliefs that he stands by. Thus, the phrase that I use to describe Jimin's innerself would be: "pure steel touched by the divine."
Anyone who boldly tattoos "Nevermind" in one-inch letters across his chest is not someone who takes life lightly. It is a simultaneous proclamation of belief and challenge to anyone who dares defy that belief system. It is proof of Jimin's rebel heart beating loudly. All the beautiful dances and sensational vocals accompanied by clever costuming are designed — not only to showcase Jimin and complement BTS — but to ensure that Jimin's messages are heard when he something to say.
BTS's Advocacy
BTS's earliest songs rallied against cultural norms and oppression of youth in South Korea, and the band has only continued to expand its advocacy with more confidence and louder messages with each subsequent album, from "2 Cool 4 Skool", "O!RUL2,?", "Skool Luv Affair", "Dark & Wild", "The Most Beautiful Moment In Life, Pt. 1", "The Most Beautiful Moment In Life, Pt. 2", "The Most Beautiful Moment In Life: Young Forever", "Wings", "You Never Walk Alone" and all the way through the "Love Yourself" trilogy (Her, Tear, Answer) and "Map Of The Soul" trilogy (Persona, MOST:7, The Journey), and all the way through to their "BE" album released last year. Combing through and exploring BTS's entire discography has revealed that, throughout their songs and music, they have carefully advocated for equality, self-love, and self-empowerment. In a world where oppression strips people of their rights, voices and autonomy, BTS is encouraging its fans and listeners to take back their rights, their voice, and their autonomy. (English translations of the lyrics to BTS's songs can be found at Doolset Bangtan.)
As I delved into the labyrinthine history of BTS and their 20 albums and 230+ songs released over the past decade, I discovered a band made of 7 members, who are not only intent on conquering the music world, have (perhaps) knowingly started a worldwide movement unshackling fears and tackling oppression and inequality. BTS is not only topping music charts in nearly every single country across the world with the release of their music in 2020 and 2021, the messages that BTS stands for are a call to action and anthem for today's youth everywhere. When BTS's ARMY (fans) collectively rally, they are powerful. In 2020, BTS donated $1 million to the Black Lives Matter movement and ARMY matched that donation within 24 hours. While BTS does not align itself with any one political party, when BTS speaks in support of a cause or to denounce oppression, their fans act. That has led to some powerful maneuvers that elicit cheers — and sometimes fear — depending on which side your political views align.
Recently, Jimin and BTS spoke out on social media about the death of an infant who died after being abused by her parents, and later issued a statement in support of "Stop Asian Hate" sharing that they have also experienced prejudice and hate and it needs to end. In a world where countries are still divided by fear, anger, hatred, prejudice, xenophobia, BTS stands as an example of how we should all come together and celebrate our differences, not be separated by them. BTS is not only dreaming of a better world, they are using their voice, power and platform to make the world a better place. Just give BTS and their ARMY a chance and they will change the world — they already have — just look around.
Empathy
If there is one thing that Jimin knows, it is the pain of exclusion and desire to be included and fit in. Of the seven members of BTS, Jimin is the one who had to fight the hardest to become a member — being the last to be selected to join the band and said to have been nearly cut and then brought back at the behest of his co-bandmate Taehyung (who Jimin has been friends with since childhood) and probably due to strenuous advocacy by the rest of the BTS band members — and since that first day as a trainee, Jimin has had to fight tenaciously for his place within BTS. It took daily hours of intense training, months of sleep deprivation, and dietary restrictions to get a chance to be a part of BTS, and even after securing the coveted spot, the constant worry and insecurities over his dance style and vocal competence had probably pushed Jimin to train harder, longer and more fervently for years, in order to never lose the one thing he has always dreamed of: a team to perform with and a chance shine. The saying that "fame is fleeting" is based in truth as success and fame can be vanish in an instant — whether from an injury, a careless comment, an unpopular opinion, or just by cruel circumstance.
Jimin dances and sings as if every performance could be his last. He gives it his all and, thus, feels the rush of success or the crush of mistakes more intensely. There is a famous Martha Graham quote among dancers: " A dancer dies twice — the first is when they stop dancing and this first death is the more painful." Jimin, as a dancer, feels this every day. It is the death-knell that he races from, but one can only outrace time for so long.
So, in his heart, Jimin lives every day to the fullest. He has to. Life is fleeting and he is all too aware of it. Feeling that constant ticking of the clock, Jimin also wants to use his power as much as he can to help, while he can. He feels empathy for those who struggle to succeed and survive keenly. He has struggled. He has fought for his place and he worries that life will be cruel and short and that his dream could be cut-short at any second. So he shines brightly and brilliantly while he can. He will celebrate and inspire for as long as he can sing and dance. He will advocate and fight for others as hard as he can with all his strength while the spotlight is still there to give him that confidence and power to wield.
Capacity for Love
Ask anyone about Jimin and they will all quickly say the same thing: he has a big heart. Jimin is the first to offer friendship and love to those who are important to him. It is Jimin's natural affection and willingness to be there for those who are struggling or whose hearts are in turmoil that has made him a magnet and source of solace for his bandmates and friends. This is an interesting dichotomy as Jimin is also the most stubborn and obstinate of the seven BTS members. He even famously fought with his best friend Taehyung over whether the band should eat dumplings before or after a dance practice. So while Jimin is the first to comfort, he is unyielding when it comes to something he truly believes in, whether it is protecting the health of his fellow dancers before a performance or standing by their side during their life trials and tribulations; and that loving heart is what draws those around Jimin closer to him and they will just as staunchly stand by his side because of it.
Jimin is also the first one of BTS who will be moved to tears by the fans. His soft, warm heart is easily touched by the fact that fans across the globe have not only shown up for BTS in concert, but can sing their songs in Korean right back to the band during performances. Just a few examples are when Jimin was overcome by the fans singing to the band during BTS's May 2019 concert at the Rose Bowl in Pasadena, California and, again a month later, at the June 2019 concert at Wembley in London, England. Jimin is not the only member of BTS whose heart can be touched by the love of the fans, but Jimin does seem the first to react. Jimin's tender heart is just another asset to BTS as it likely has helped them all come together and heal after tension and arguments arose over the past 9 years working together. BTS has had a long, arduous journey over the past 9 years together and those early years were full of struggles and it takes a peace-maker and a soul with an abundance of love to share to help get through those tough times.
Awareness
One of the more curious aspects to Jimin is his heightened self-awareness. As an artist, dancer, singer, Jimin is acutely aware of his body movements, training and choreography, in addition to the hair color, accessory and wardrobe costumes that he employs to capture attention and perform to the best of his ability. Yet along with that carefully strategized stage-craft, Jimin also possesses a razor-sharp and savvy sense of presence in social media about how he and BTS are perceived by fans, media, peers and critics.
Jimin was one of the first of the BTS members to embrace all the social media platforms to reach out to the vast number of fans that he has steadily interacted and responded to over the past 9 years, giving them a special window into his world of dance, singing, performance, and all the amazing travel adventures that he has been privileged to enjoy as a member of BTS. If there is one member out of the 7 most attune to how the fans are responding to BTS's music and performances, it is Jimin. He also seems to cajole and urge his fellow bandmates to post regularly and interact with the fans at every opportunity.
It is a 2-prong strategy: it gives Jimin the necessary feedback on his own performances and it serves to ensure that the fans feel included in BTS's personal and professional lives so that the fans invest in their careers, seemingly more than any other fanbase on the planet. The passionate support of the BTS fans, known as ARMY, is legendary. ARMY will literally give nearly every waking moment of their personal lives to participate in fandom activities to support BTS, from polls to fund-raising and organizing philanthropy and making sure there are streaming parties to keep BTS's music in rotation and demand. ARMY also recruits new fans and educates them on how to navigate and use social media platforms to maximize publicity and promotion of BTS's latest singles and albums, and keep their music at the forefront of attention in the music industry.
Thus, Jimin's willingness to engage with and interact with the fans on the wide variety of social media platforms on a regular basis and his efforts to get his bandmates to interact as well, is appreciated and useful. The symbiotic relationship between BTS and ARMY is awe-inspiring and that mutual-love creates an "infinity loop" that is stronger than any bond between fan and artist that I have ever seen. So much so, that it is hard to tell which is the bigger cheerleader: BTS or ARMY.
Continuous Learning
Jimin is not an artist content to plateau. Jimin is an artist in constant motion. He is always pushing himself harder and aiming for the next level or goal that he has set for himself. Because his professional career has expanded into being more than just a singer and dancer, Jimin has undertaken additional education and training. In 2020, his professional expertise expanded into being a project manager for BTS while they were working on their "BE" album and has also in recent years written and composed his own solo songs: "Promise" and "Christmas Love", in addition to working on the BTS song "Dis-ease". Jimin has stretched and grown in professional ways that probably have surprised himself. In the process of encouraging fans and his bandmates, Jimin probably found himself dreaming bigger too and that has led him to search for and explore new artistic areas to fulfill those dreams.
Mirror
When you look at Jimin, what do you see? Do you see a singer? A dancer? A stage performer? A superstar? Jimin is all that and more. He is more like a supernova that occurs once in a lifetime that shines brighter and warmer than anything else you may ever see again. But, if you look closer, you will see that in all that brilliant light, a mirror. Jimin is a man who loves, lives and yearns like all of us. He shines to remind everyone that they too can shine brightly and warmly — they just have to try. More than anything, Jimin should inspire us all to live as he has lived: to the fullest. To strive, to dream, to push and to insist on living our lives as we want and wish. We get only one life. It is on us to claim it. So Jimin's true gift is to show us a mirror showing each of us what we can have and should have in our lives. Be inspired. Dream bigger. Love harder. Be a supernova.
That's the Jimin that I see and hope you see too.
*********
이 기사는이 페이지 하단의 Google 번역 버튼을 사용하여 한국어 또는 다른 언어로 읽을 수 있습니다. 
この記事は、このページの下部にあるGoogle翻訳ボタンを使用して韓国語または他の言語で読むことができます. 
Mababasa ang artikulong ito sa Korean o iba pang mga wika gamit ang pindutan ng Translate ng Google sa ilalim ng pahinang ito. 
可以使用本页底部的 Google 翻译按钮以韩语或其他语言阅读本文.
Este artículo se puede leer en coreano o en otros idiomas utilizando el botón Google Translate en la parte inferior de esta página.